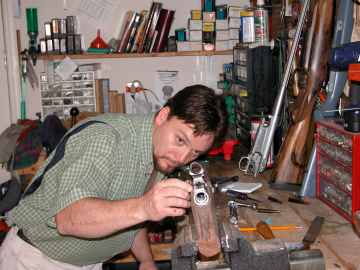 No matter where you begin, it's a long way to the pinnacle, and you don't reach it, overnight. Whether you're talking about climbing mountains or composing music or creating the finest guns in the world, it takes time, dedication, grit, and an enormous quantity of God-given talent to reach the top.
Todd Ramirez began that journey nearly forty years ago at the Colorado School of Trades where he learned the fundamentals of gun building. He perfected his skills through a lengthy apprenticeship in the English style of gun-making followed by nine years at the Beretta Gallery in Dallas. Where he worked with premium-grade guns of the highest quality. When he opened his gun-making shop near Alba, Texas, he dedicated himself to making only Only the best of the best. Today, he stands at the very top of the gun-making profession. Best quality is defined as seldom equaled - and never exceeded and that is the standard that applies to the aesthetics and function of every Todd Ramirez gun.
Todd specializes in rifles and shotguns in the English, European or American Classic styles. He can help find your perfect measurements for your current gun and modify it to suit your needs.
In Todd's shop you can have your gun repaired, restored, or restocked. Or you can have him create a totally new rifle or shotgun that is built to your unique requirements and built to your unique requirements and is built to the best quality standards from the finest materials, available in the world today. The result will become a family heirloom and the object of pride for generations to come.