Todd is a Shotgun Specialist with over 30 years of experience in fine shotguns and 9 years of Italian training on Berettas and other Italian guns. Todd offers custom shotgun work and has a vast knowledge of American, English and Italian guns. Todd can restock your shotgun whether it be a sidelock or boxlock. He can also fit your shotgun using a hot oil bend method. You can be fitted for length of pull, pitch and cast. A pattern board is on site to determine drop. Todd can also change those right hand cast off guns to left hand shooter cast on. Some of the repairs he works on are timing issues, ejector work, trigger work, back to face, resoldering and relaying loose ribs just to name a few. He also has a vast knowledge for making parts and refitting back to original specs on High End Premium Shotguns when parts are not available, this includes heat treating.
This is a SO4 Beretta shotgun that was fully restored. New custom stock and forearm. Restored metal and color cased. Custom 32 Inch DT10 Barrel custom fitted.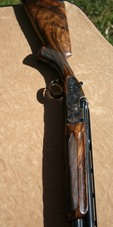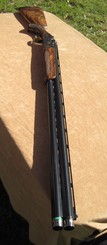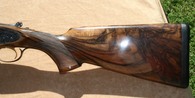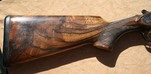 Beretta 687 Eell Sporter 12 Ga. Shotgun With Optima Bore Barrel
Beretta 687 EELL Diamond Pigeon Sporter 12 ga. shotgun with optima bore barrel. 28" barrels. This rifle has been upgraded to a new stock with long tangs, high gloss oil finish, bluing, color cased and leather wrapped pad.



Cleaning and Maintenance should be once a year, depending on the gun, maker, and amount of shooting.
Cleaning & Maintenance - Includes:
Complete Disassembly
Inspection of all parts (especially springs & wear areas)
Includes: restoration of original timing & part relationship
Cleaning Prices:
Semi Automatic $55.00 - $85.00
Pump Shotguns $55.00 - $85.00
(i.e. Remington 870 $55.00, Browning A5 $85.00)

O/U Box Lock $100.00 - $200.00
S/S Box Lock $100.00 - $200.00
(i.e. Browning or Beretta $100.00 , Parker $200.00)

Side Lock O/U $225.00 - $325.00
Side Lock S/S $225.00 - $325.00
(i.e. Beretta S05 $225.00 , Purdy $325.00)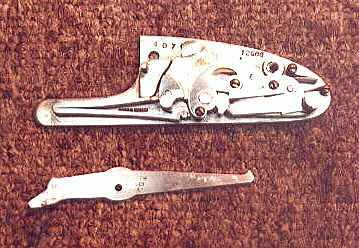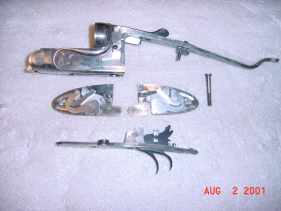 Trigger Work Is By Quote
Trigger work varies depending on make of gun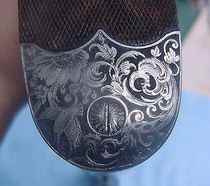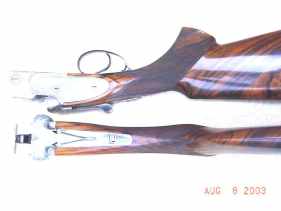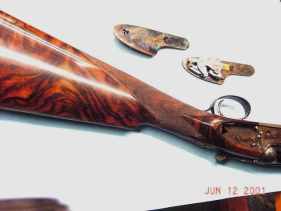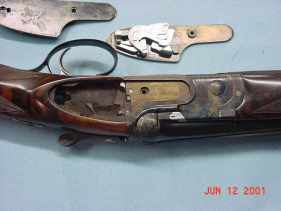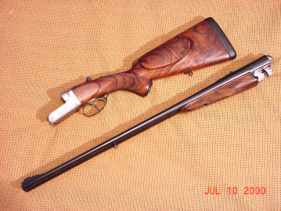 Bead Installation - Minimum Charge
Mid Rib Bead - Minimum charge, or $15.00 when combined with another job.
Barrel Work:
Choke work on fixed choked guns. $85.00 using the preferred method: cut & shoot, count percentage or customer's specs.

Screw in Chokes start at $495.00 (Includes three chokes)

Lengthening Forcing Cones: $85.00 per barrel
Any work done on chrome lined barrel: $15.00 additional charge
Relay Ribs & Solder (Includes re-rust blue)
1 Rib - $500.00
2 Rib - $600.00
This is a starting price. Barrels in poor condition with a lot of pitting that need more prep work may have additional charges.
New Barrels Installed - Per Quote (Determined by Maker)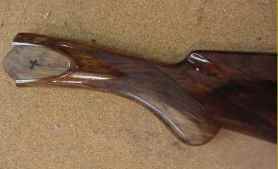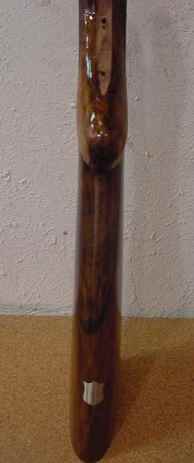 Work in Progress - Pistol Grip gun being converted to Prince of Wales
Example of a conversion of a Pistol Grip to a Prince of Wales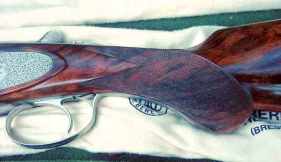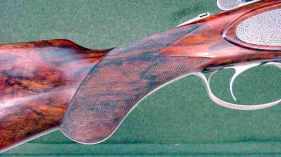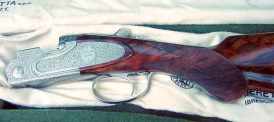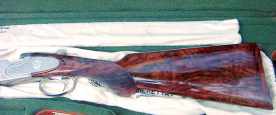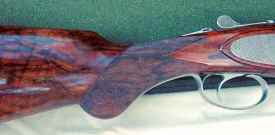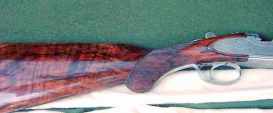 Stock Work:
We do every aspect of stock work
Finishes
Crack & Stock Repair
Brand New Stocks
Please call with specific needs as this is a broad subject.
Minor Forearm Repairs- Start at $100.00 (includes finish match up)
Minor Buttstock Repairs - Start at $150.00 (includes finish match up)
We Do Three Oil Finishes:
Satin Filled Oil
Semi-Polish Satin rubbed with Rotstone
High Polish - Hand rubbed finish built up with coats.
Please refer to Oil Finishes to see examples of finishes.
Recoil Pad
Recoil Pad installed with customer's request in length. $150.00
Recoil Pad installed with fitting. $150.00
Includes: Gunsmith determining length, pull, and pitch.
Stock Bending - After Stock Dimensions Per Stock Bending
1st Bend - $250.00
2nd Bend - $100.00
Pattern Board Testing - $100.00
Pattern Board by Appointment. Customer must come to shop.
Todd is available for group fittings at your location for a fee.
Leather Wrap Recoil Pad
Leather Wrap Recoil Pad $450.00
See Leather Wrap Pads
Work Done By Quote:
Ejector Work
Restoration of Gun Being Off Face (Headspace Adjust)
Lock Work
Stock Work - Please call for quote as preferred method to fit your needs.
Repairs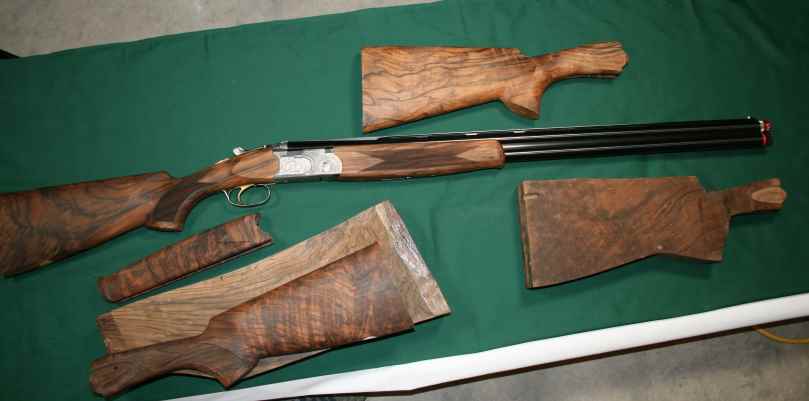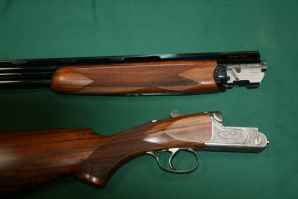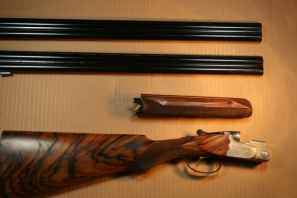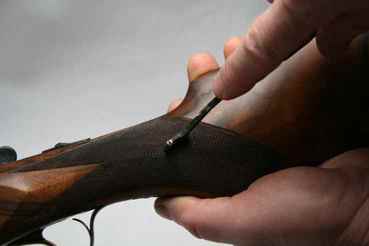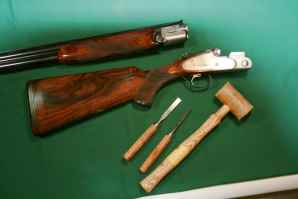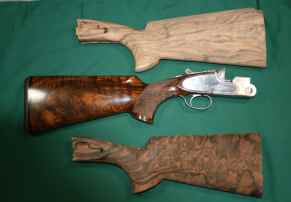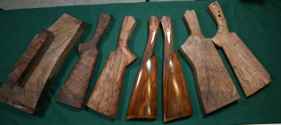 So9 Stock refinished - custom made heel and toe with engraving.